Hi, my name is Josh Spaulding and this is my personal blog. I'm just a normal 31 y.o. Husband and Father who's had somewhat of an interesting life so far, serving overseas (Germany and Iraq) for 5 years in the U.S. Army and running online businesses during and after.
I created this blog to document my random musings on life in general. Most of my posts will cover healthy living/fitness, family, faith and everything in between.
For those bored enough to be interested; here is a quick, short bio:
I was the 4th of 6 children of my parents, Glenn and Susan Spaulding. I was born and raised in Washington, Indiana… a small town in southern Indiana.
I got into some trouble at the age of 18, which left a nasty Felony on my record (Battery resulting in serious bodily injury.) I was young and dumb as they say. I worked as a machine operator at a Wood Factory in Jasper, Indiana for several years before becoming tired of factory work.
I then decided to join the Army at the age of 22.
I attended Basic Training and Advanced Individual Training at For Sill, Oklahoma and was stationed in Babenhausen, Germany in July of 2002.
In Feb. 2003 I deployed with my unit to Iraq for the initial invasion, which was later coined "Operation Iraqi Freedom."
A year later I returned back to Babenhausen, did some traveling around Europe and in June of 2004 met my beautiful wife, Claudia (left.)
In November of 2004 our good friend Rolf Hohmann taught me how to create a Website, which started my long-time obsession with Internet Marketing, my current profession.
Between then and May 2007 I went from the rank of Private to Sergeant, but we endured the typical, stressful Army life, as I left for months at a time to train and constantly had the worries of being deployed back to Iraq… Luckily I never deployed a second time!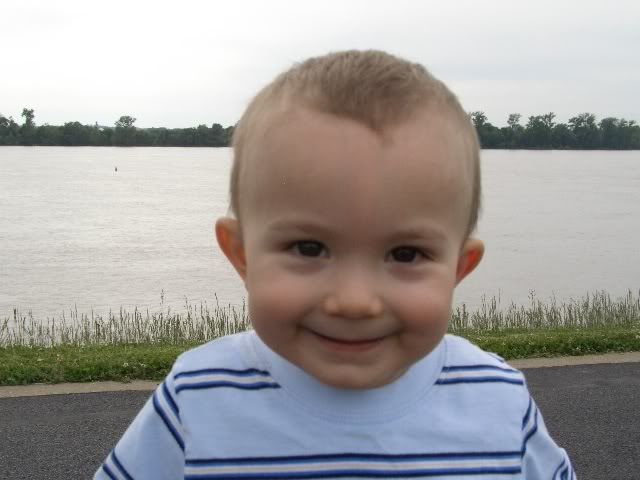 In February of 2007 our son, Aaron was born (right) and he's been the center of our attention ever since.
In May of 2007 I finished my 5-year contract with the Army and we moved to Evansville, IN. We didn't particularly enjoy it there, so exactly 1 year later we moved to Indianapolis, IN. I guess we were so used to moving all the time in the Army, that we just kept doing it afterwards 🙂 because 2 years after that we bought a home in Fishers, IN. Two years after that we move after, this time a little bit south of Indianapolis where we currently reside.
I now spend my time with Claudia and Aaron, running my online business, maintaining a physically and mentally fit lifestyle and enjoying life in general!
No responses yet